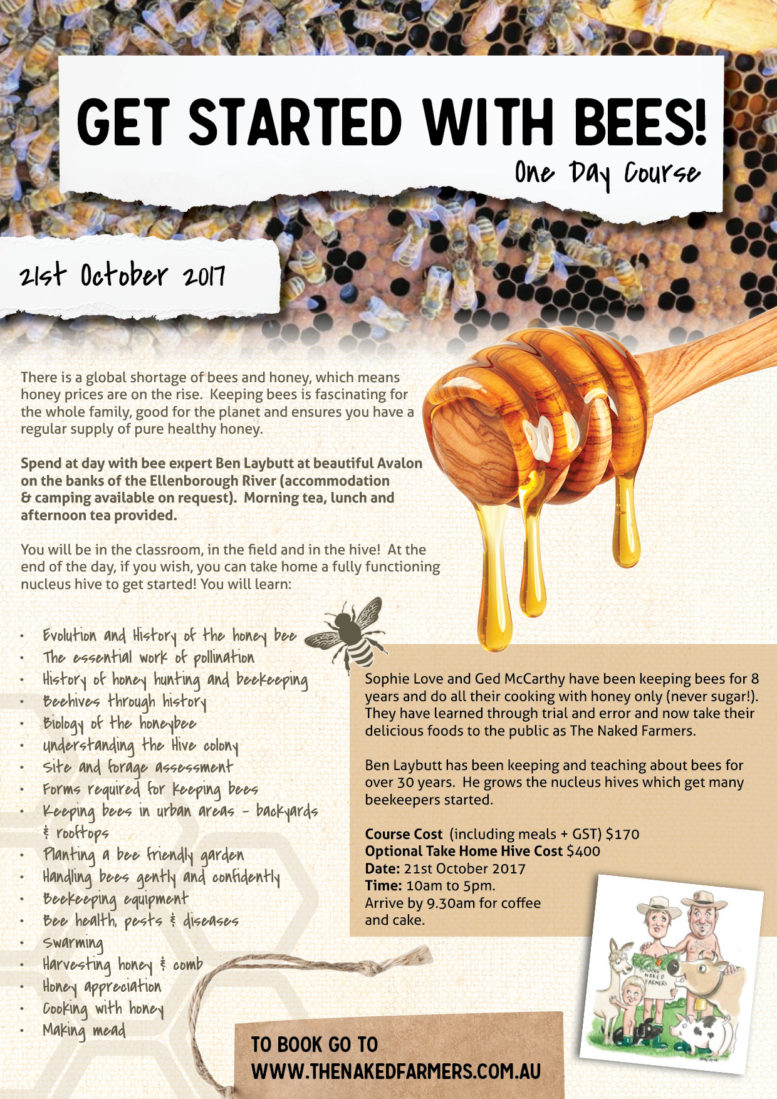 Product Description
21st October 2017
There is a global shortage of bees and honey, which means honey prices are on the rise. Keeping bees is fascinating for the whole family, good for the planet and ensures you have a regular supply of pure healthy honey.
Spend at day with bee expert Ben Laybutt at beautiful Avalon on the banks of the Ellenborough River (accommodation & camping available on request). Morning tea, lunch and afternoon tea provided.
You will be in the classroom, in the field and in the hive! At the end of the day, if you wish, you can take home a fully functioning nucleus hive to get started! You will learn:
– Evolution and History of the honey bee
– The essential work of pollination
– History of honey hunting and beekeeping
– Beehives through history
– Biology of the honeybee
– Understanding the Hive colony
– Site and forage assessment
– Forms required for keeping bees
– Keeping bees in urban areas – backyards & rooftops
– Planting a bee friendly garden
– Handling bees gently and confidently
– Beekeeping equipment
– Bee health, pests & diseases
– Swarming
– Harvesting honey & comb
– Honey appreciation
– Cooking with honey
– Making mead
Sophie Love and Ged McCarthy have been keeping bees for 8 years and do all their cooking with honey only (never sugar!). They have learned through trial and error and now take their delicious foods to the public as The Naked Farmers.
Ben Laybutt has been keeping and teaching about bees for over 30 years. He grows the nucleus hives which get many beekeepers started.
Course Cost (including meals + GST) = $170
Optional Take Home Hive Cost = $400
Accommodation & Camping = sophie@thenakedfarmers.com.au
Date: 17th September 2016
Time: 10.30am to 5pm