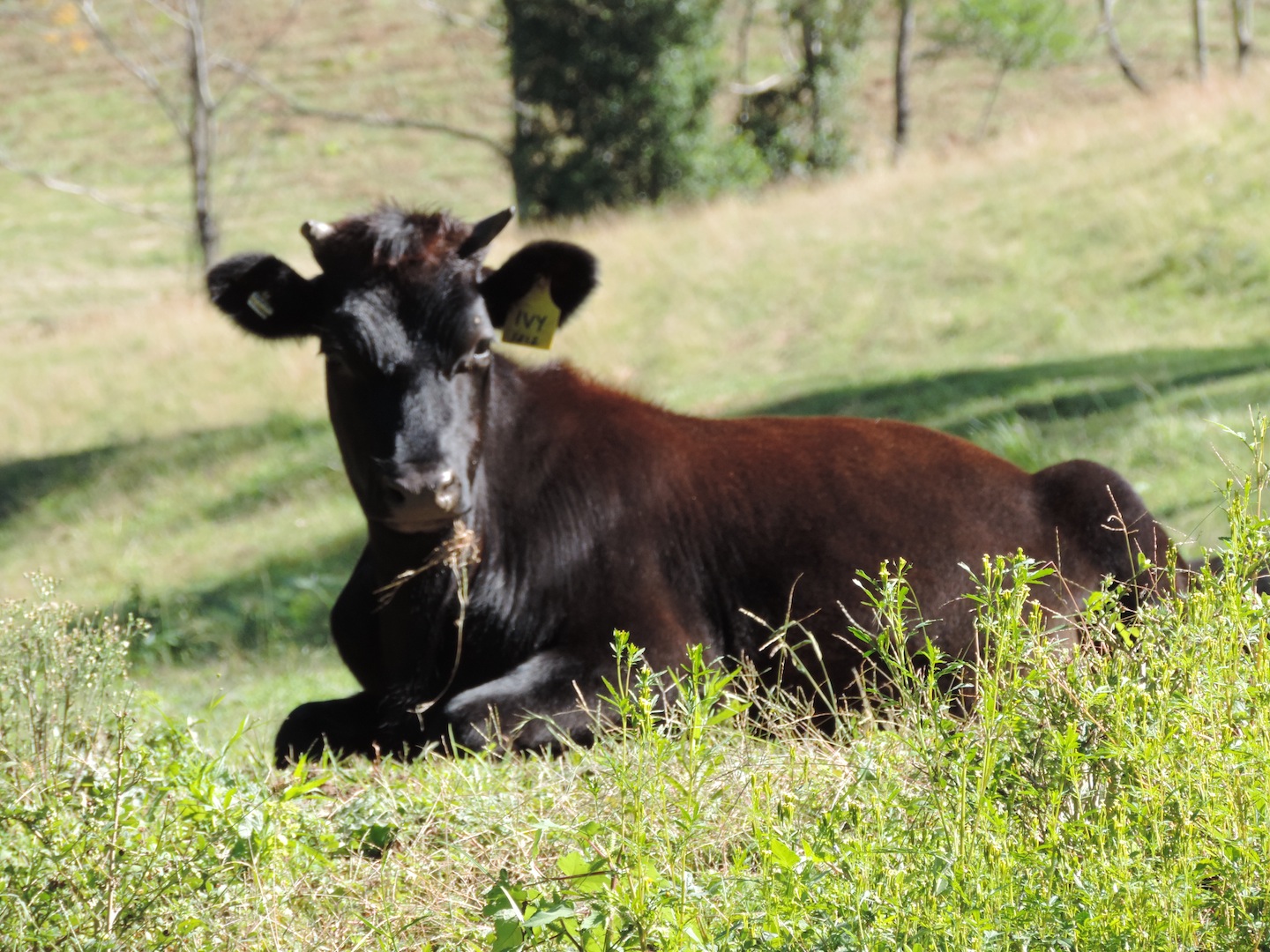 With 400 acres to freely roam our small herd of cattle 0f 30 – 40 head have their pick of lush pasture and are a happy, gentle herd led by the beautiful Daisy, our foundation cow.
Visitors love the fact that they can walk up to our cows and steers and make friends. Daisy, Honey, Angel, Clara & many more love a good scratch or stroke and Daisy is a great one for cuddles. She used to follow Sophie everywhere – including on her daily 5 km runs!
Even our beautiful Santa Gertrudis bull, Santa (because he came at Christmas!), is quiet and peaceful. We have a mix of Jersey, Angus and Santa Gertrudis animals which means we get great meat, easily birthed and quiet in nature, and we some of the Jersey heifers can be milked when they have calves at foot.
Because our cows have so much room we rarely need to contain them to one area. They naturally tend to pick the sweetest spots and 'hang out' there for a while until the good grass is gone and then they move on to another spot. If we need to move them on, we simply slash the area to mulch the pasture, and they naturally pick another paddock.
Generally they roam to different dams and watering holes during the day and then bed down together in one spot at night. If calves are berthed on the far side of the property, the herd will bring them home to the house paddock fence so we can see and notate their progeny!
The cattle are improving pasture with their lovely manure and a small herd treads more lightly on the land. We are thrilled to see dung beetles in almost every cowpat now which shows how healthy the land is becoming under our chemical free custodianship.
Our job is to improve the land after years of neglect, to increase bodiversity, to support native flora and fauna and to stop degradation by working with the natural contours of the land, helping the land to hold water and diminishing run-off into rivers and creeks causing floods etc.